We are where you are
Organisation, business divisions and governance for the year 2018
Organisation
---
Management and control of Íslandsbanki is divided among shareholders, the Board, and the CEO in accordance with the Bank's Articles of Association, other Board directives, and applicable regulatory instruments.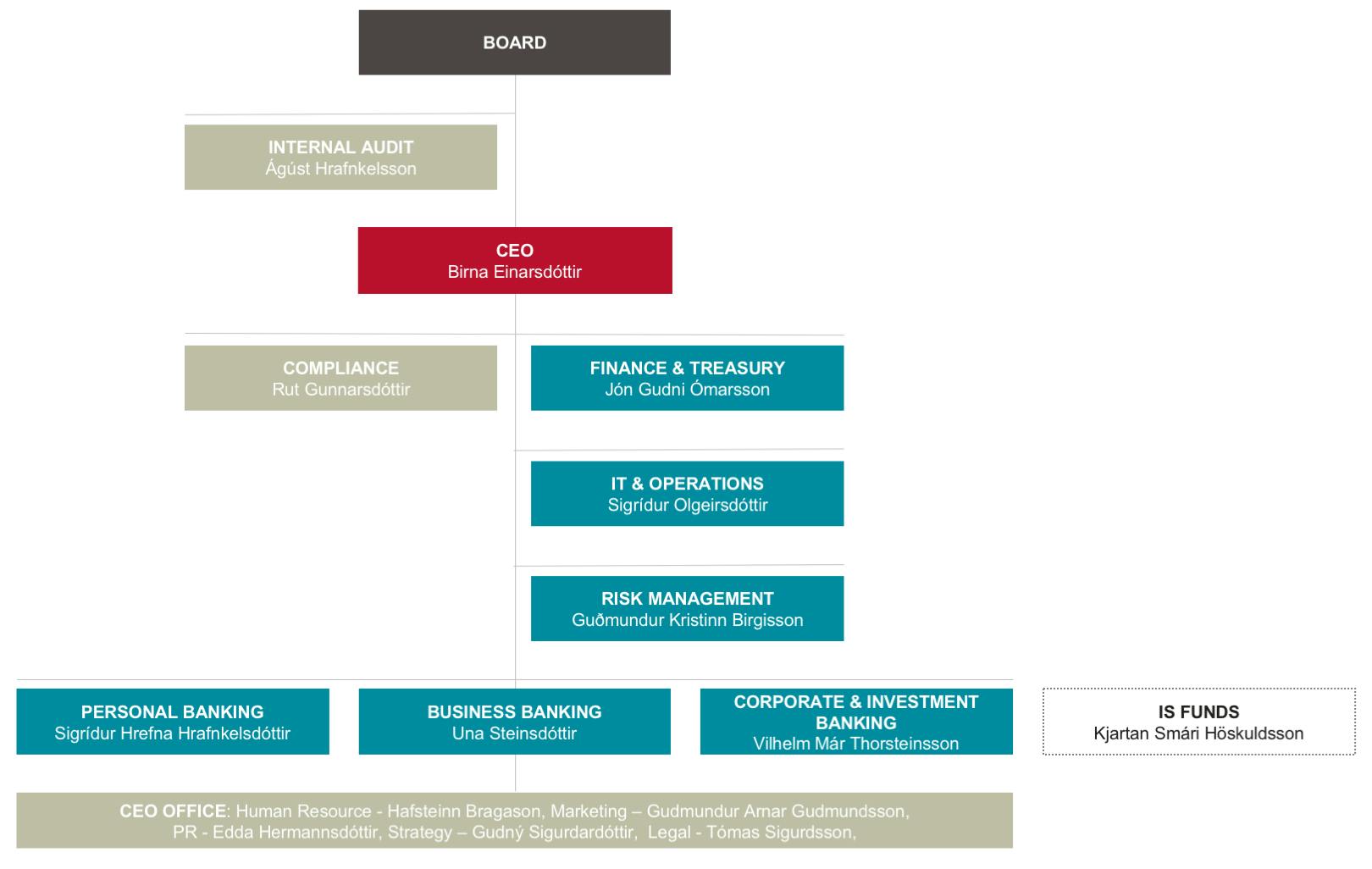 Ownership structure
Since January 2016, the Bank has been wholly owned by the Icelandic Government, both directly and through ÍSB Holding, which is also Government-owned. Icelandic State Financial Investments administers the Government's holding in the Bank, in accordance with the Act on Icelandic State Financial Investments, no. 88/2009.
Personal banking
Personal banking services
---
"We are grateful for the trust of our customers and their enthusiastic reception of our new digital solutions over the course of the year. It is particularly gratifying to see how many have chosen to make digital banking services a part of their daily lives through the Íslandsbanki website and apps. Our dialogue with our customers has become more active and effective, and a large number of customers now participate in the development of new digital solutions. Íslandsbanki will continue to develop new service channels on the internet and through its apps, thereby making it easier for our customers to conduct their daily banking activities at any time, wherever they are. Íslandsbanki customers are the most satisfied in the Icelandic banking market, and it is our goal that they should continue to be so."
Sigríður Hrefna Hrafnkelsdóttir, managing director of personal banking
Business banking
For SMEs
---
"It is extremely gratifying that for yet another year, our service to businesses, both through our branches and through Ergo, has topped the rankings in the Gallup corporate survey omnibus. We stand out in terms of service and consultancy, we have the highest net promoter score (NPS), and we are clearly in the forefront when respondents are asked who is the leader in the corporate market. This testimony is clearly bringing Íslandsbanki a growing share of the market. The economic environment continued to be favourable during the year, characterised by a vibrancy that can be seen in rising demand for credit and a steadily growing number of corporate customers. During the year, Reykjavík Economics prepared an interesting report for Íslandsbanki, entitled Keyrir þú áfram hagvöxt? ,which focused on the economic importance of SMEs."
Una Steinsdóttir, managing director of business banking
Corporate and investment banking
For large companies and investors
---
"In 2018, we took advantage of our strengths and placed all of our services to large companies and investors under the same division. With increased cooperation, we are even better prepared to tackle complex and extensive projects with our customers, as we have seen numerous times this year. This distinguishes us in the market. Íslandsbanki provides the best service to companies according to a survey among the 300 largest corporates in Iceland and is also considered the most professional bank. That makes us very proud."
Ásmundur Tryggvason, managing director of corporate & investment banking. Appointed in January 2019
Íslandssjóðir hf.
Specialised investments
---
"Íslandssjóðir has grown and evolved in spite of stiff competition and demanding conditions in the domestic securities market in recent years. The main reason for this is its vibrant and highly experienced team of employees who provide professional asset management services. This growth has delivered increased staff expertise, enabling us to develop new and exciting investment options, both for the general public and for institutional investors. An example is the new green bond fund founded by Íslandssjóðir, 105 Miðborg building a new neighbourhood in Kirkjusandur and the commodity fund that invests in international commodity markets."
Kjartan Smári Höskuldsson, managing director of Íslandssjóðir hf.